Welcome to Thilawa Resettlement Income Restoration Program
WELCOME: INCOME RESTORATION PROGRAM IN THILAWA SEZ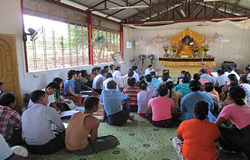 Income Restoration Program (IRP) in Thilawa SEZ , which is in-kind assistance, is provided in order to restore and stabilize the livelihood activities and income source of PAPs.
IRP focuses on diversified economic activity for PAPs to generate earned income in a short period which will be able to cover the basic needs of PAPs after relocation. It supports for capacity development of PAPs in necessary techniques for income earning activity and empowers PAPs to obtain stable job opportunity.
6th Thilawa Community Coordination (TCC) meeting was held at Myanmar-Japan Thilawa Development Office (MJTD) on 6th March 2018.
On 18th Feb, 2018, a community workshop was held by TSMC at Zone B relocation site and supported by JET in order to get the agreements for water usage charges. 57 participants attended the workshop. Firstly, water usages and charges, maintenance for water supply system and the roles and responsibilities for accountant were explained. During the workshop, participants requested to reduce the water unit charges and made a negotiation with TSMC and JET.
No front page content has been created yet.