Welcome to Thilawa Resettlement Income Restoration Program
WELCOME: INCOME RESTORATION PROGRAM IN THILAWA SEZ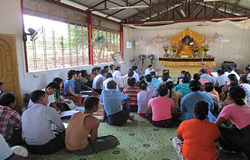 Income Restoration Program (IRP) in Thilawa SEZ , which is in-kind assistance, is provided in order to restore and stabilize the livelihood activities and income source of PAPs.
IRP focuses on diversified economic activity for PAPs to generate earned income in a short period which will be able to cover the basic needs of PAPs after relocation. It supports for capacity development of PAPs in necessary techniques for income earning activity and empowers PAPs to obtain stable job opportunity.

In order to protect the spread of the Covid-19 virus within the community, Thilawa Special Economic Zone Management Committee (TSMC) has provided the washable masks to 75 project affected households (PAHs) who are living at Zone A and B relocation sites in Nyaung Wine village tract, Kyauktan township on 14th and 15th May 2020.

With the technical assistance of JICA Expert Team (JET), TSMC has been provided rice and cooking oils to total 93 family members from 42 vulnerable households of Thilawa SEZ Zone B phase 2, 3 and 4 project affected households by targeting the elderly, woman-headed and people with disabilities at Zone B relocation site and Aye Mya Thida ward, Kyauktan township on 28th and 29th April 2020 respectively.
No front page content has been created yet.