Welcome to Thilawa Resettlement Income Restoration Program
WELCOME: INCOME RESTORATION PROGRAM IN THILAWA SEZ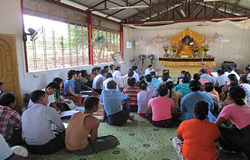 Income Restoration Program (IRP) in Thilawa SEZ , which is in-kind assistance, is provided in order to restore and stabilize the livelihood activities and income source of PAPs.
IRP focuses on diversified economic activity for PAPs to generate earned income in a short period which will be able to cover the basic needs of PAPs after relocation. It supports for capacity development of PAPs in necessary techniques for income earning activity and empowers PAPs to obtain stable job opportunity.
Participants discussed and shared about "Good Practice Approaches to Land Acquisition & Resettlement In Peri-Urban and Urban Environments" on 5th December,2016. To share experience on Land Acquisition , Resettlement, Income Restoration Program
Daily News on Resettlement and Income Restoration Program for Thilawa SEZ  Zone A & B can be found from the following link. Thilawa Resettlement Income Restoration Program Facebook Page
No front page content has been created yet.