Welcome to Thilawa Resettlement Income Restoration Program
WELCOME: INCOME RESTORATION PROGRAM IN THILAWA SEZ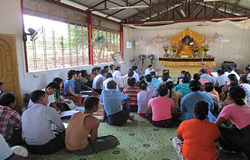 Income Restoration Program (IRP) in Thilawa SEZ , which is in-kind assistance, is provided in order to restore and stabilize the livelihood activities and income source of PAPs.
IRP focuses on diversified economic activity for PAPs to generate earned income in a short period which will be able to cover the basic needs of PAPs after relocation. It supports for capacity development of PAPs in necessary techniques for income earning activity and empowers PAPs to obtain stable job opportunity.
On 27th January 2018, JET lunched a temporary shop cooperated by TSMC and MJTD at Kyaik Khauk Pagoda Festival until the 1st February 2018.
In order to give the training for reading water meter, accounting system and financial management procedure, a meeting was made with village social support committee which is combined with the members from water and electricity committee on 14th January, 2018. Total 8 participants including 100 Household Leader and committee members attended the meeting.
No front page content has been created yet.