Welcome to Thilawa Resettlement Income Restoration Program
WELCOME: INCOME RESTORATION PROGRAM IN THILAWA SEZ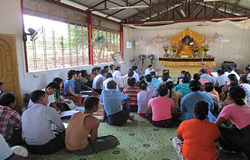 Income Restoration Program (IRP) in Thilawa SEZ , which is in-kind assistance, is provided in order to restore and stabilize the livelihood activities and income source of PAPs.
IRP focuses on diversified economic activity for PAPs to generate earned income in a short period which will be able to cover the basic needs of PAPs after relocation. It supports for capacity development of PAPs in necessary techniques for income earning activity and empowers PAPs to obtain stable job opportunity.

2nd Basic and advance tailoring training started on 14th November 2019, provided as a part of income restoration program for Zone B PAPs is successfully finished on 15th January 2020 at Myaing Tharyar Kindergarten, Nyaung Wine Village Tract, Kyauktan. First of all, TSMC gave the opening speech and awarded the certificates for those trainees who are outstanding during the training period of basic and advance.

10th Thilawa Community Coordination (TCC) meeting was held at Myanmar-Japan Thilawa Development Office (MJTD) on 10th January 2020. Total 30 participants; officers from MJTD, village administrators, representatives from project affected persons (PAPs) and project affected communities (PACs), Thilawa SEZ Management Committee (TSMC) and JICA Expert Team attended the meeting.
No front page content has been created yet.