Welcome to Thilawa Resettlement Income Restoration Program
WELCOME: INCOME RESTORATION PROGRAM IN THILAWA SEZ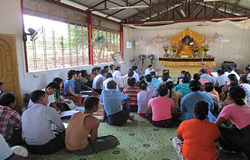 Income Restoration Program (IRP) in Thilawa SEZ , which is in-kind assistance, is provided in order to restore and stabilize the livelihood activities and income source of PAPs.
IRP focuses on diversified economic activity for PAPs to generate earned income in a short period which will be able to cover the basic needs of PAPs after relocation. It supports for capacity development of PAPs in necessary techniques for income earning activity and empowers PAPs to obtain stable job opportunity.

Quarterly Vulnerable People Program monitoring is conducted to vulnerable families and monthly Vulnerable People Program was followed as usual on 26th June 2019. According to the monitoring result in June, one household which is entitled with VPP criteria was added to Vulnerable People Program starting from June. Basic foodstuffs are provided for those total 53 family members from 23 vulnerable households.
Basic and advance tailoring training provided as a part of income restoration program is successfully finished on 12th June 2019 at Myaing Tharyar Kindergarten. First of all, TSMC gave the opening speech and awarded 1st, 2nd, 3rd and 4th prizes for those trainees who are outstanding during the training period of basic and advance.
No front page content has been created yet.